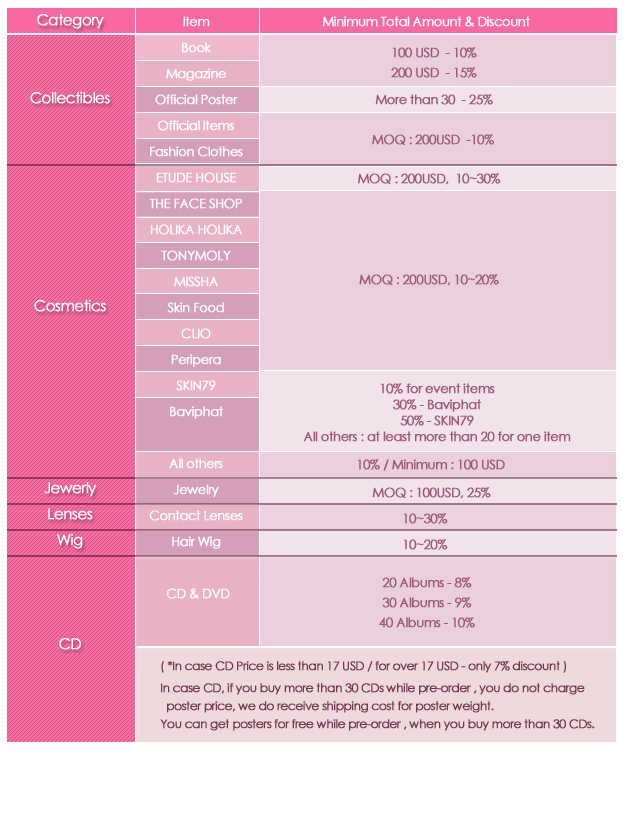 Please make your order and checkout using Western Union and then inform us.
(You do not have to pay using Western Union, this is just for our system purposes.)
After you inform us we will calculate your discount and let you know how much the total is.
You can then pay using Western Union or Paypal. Shipping will be made about 5 ~ 7 days later.
Buyers can choose folded poster option but we will ship the posters in hard tube as unfolded as
long as you select one of your posters as unfolded.
(ex. If you have 10 Albums + Posters, select 9 as folded and 1 as unfolded and we will send all 10 as unfolded!).
Shipping cost should be paid by buyers.
Please check your country's custom's law. Possible Shipping method : Air Parcle (2 ~ 6 weeks), EMS (1~2 weeks), UPS (expensive)
Please send us e-Mail for more inquires to "kpoptownservice@gmail.com"
* Buyers can ask items which are not in stock. 
We can get them. Please send us order list in excel file on your own. We will send you revised invoice in case buyers order items which are not in stock for now.

* Drop-ship : Please contact us for more details.